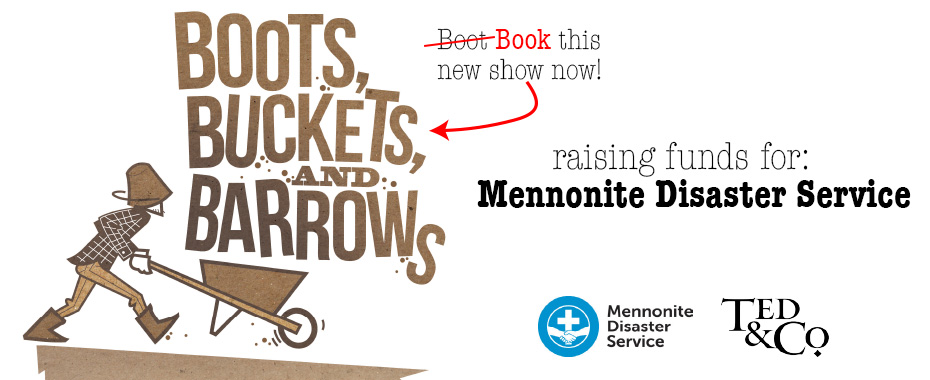 Our newest collaboration, Boots, Buckets & Barrows, is a partnership with Mennonite Disaster Services. An event that is part theater show-part auction, to raise awareness, funds, and volunteers for MDS.  The event is based on the show, The Jesus Stories: Faith, Forks & Fettuccine, interrupted two times to auction off buckets of home-related items – homemade breads and kitchen goods, games, or a bucket of house tools compiled by the hosting congregation. Ted and Jeff run the auction process, with often hilarious, but effective, results for fundraising.
The play itself  is based on a few of the many Gospel stories of Jesus gathered around tables. There was food to eat and food for thought, exploring who was invited to those tables and who showed up. The miracles of Jesus were sometimes ordinary stories with extraordinary results.
Ted and Jeff offer a fresh look at the Gospel stories and discover that when uncorked, these stories pour out sparkling drops of laughter Jesus must have found in the people he met along the way. Ted and Jeff have gathered these stories, mixing in a pinch of humor, a dollop of song and several servings of pasta with some cheese and wine on the side. Bon Appetit!
Sorry, we don't currently have any calendar events to show you. Check back again soon!