Portraits of Resilience Tour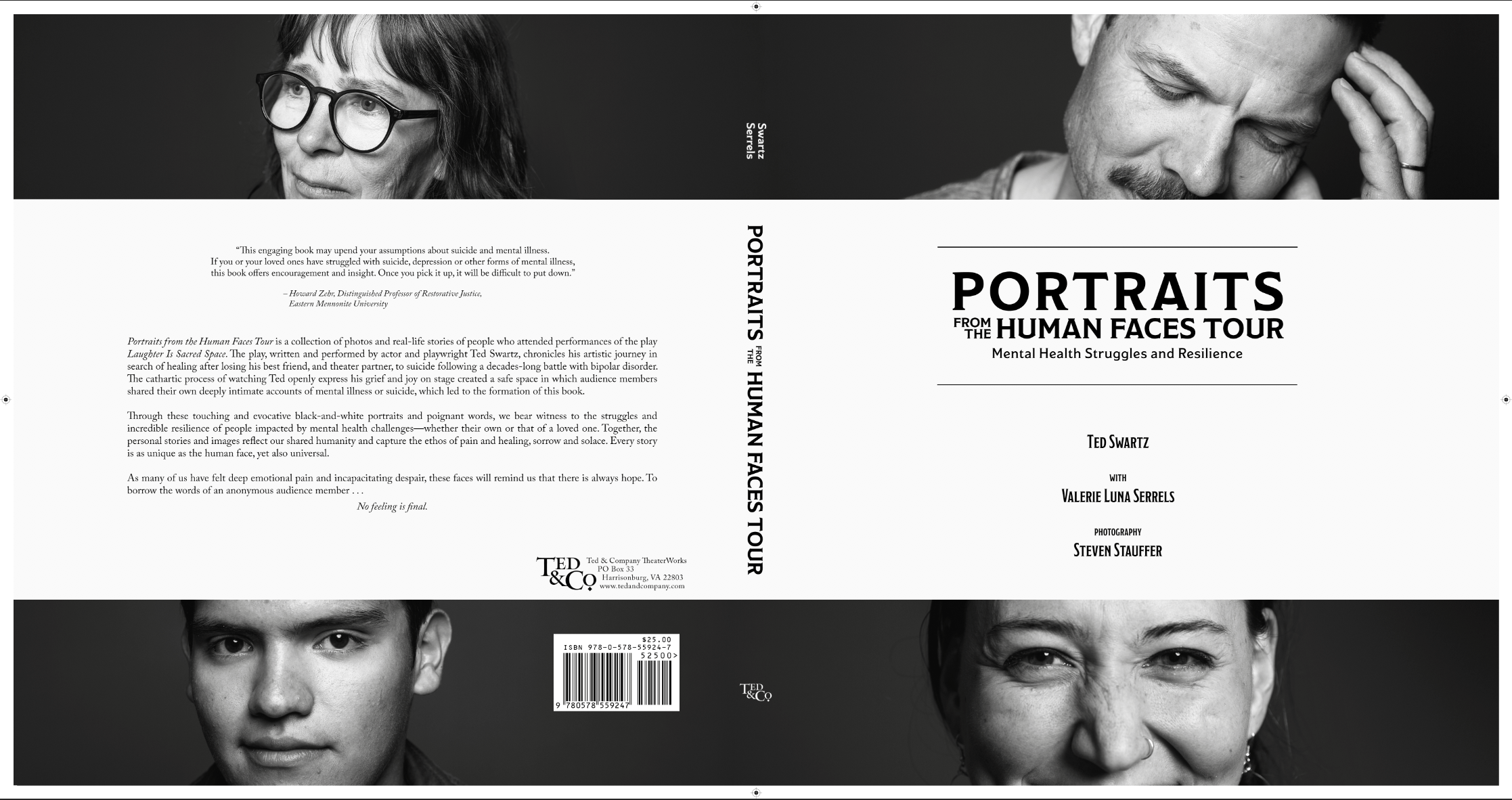 THE 2020 PORTRAITS OF RESILIENCE TOUR
This performance and conversation with actor and playwright, Ted Swartz, brings to light a topic that is often kept in shadow. Mental illness. Suicide. Ted brings a "part two" to his play, Laughter Is Sacred Space, the play he wrote and performs about losing his best friend and partner, Lee Eshleman, to suicide. The Portraits of Resilience Tour looks behind-the-scenes at the tour that produced our new book, Portraits From The Human Faces Tour: Mental Health Struggles and Resilience, fresh insight into Ted's process of grief and healing, the themes of acceptance and forgiveness, and offers a peek into the lives of the people whose courage made the book possible .
This multi-media presentation includes performance sketches with Ted in and out of character, candid talk about difficult subjects, charting a journey through his history and through universal themes of human suffering and human love with humor, vulnerability, and artistry.
We hope to include a broad and diverse number of communities as part of this effort to open up hearts and conversation around what it means to be human, and whole, amidst both grief and joy, wounding and wellness. Many communities cannot afford to bring events like this, and we'd like to make that possible. If you'd like to make a tax-exempt donation to this cause, please visit the Center for Art, Humor & Soul here.
---
THE BOOK:
Portraits from the Human Faces Tour is a new book published by Ted & Company Theaterworks, a visual and heartfelt addition to the important conversation around the mental health crisis in this country that has resulted in an increase of suicides and a deeper loss of connection to the soul. Through this book, and the coming book tour, we hope to shine a light on a subject that continues to be stigmatized and that many of us are afraid to even acknowledge.
Presented here are the faces and real-life stories of people across North America who attended performances of Laughter Is Sacred Space during the Human Faces Tour. Ted wrote the play as part of his artistic journey in search of healing after losing his best friend, and theater partner, to suicide. The cathartic process of watching Ted openly express his grief and joy on stage created a safe space in which audience members began to share their own deeply intimate accounts of mental illness and suicide. The courage of those who chose to participate made this book possible.
To purchase the book, click this link.
Reviews:
"This engaging book may upend your assumptions about suicide and mental illness. If you or your loved one have struggled with suicide, depression, or other forms of mental disorders, this book offers encouragement and insight. Once you pick it up, it will be difficult to put down."  ~ Howard Zehr, Distinguished Professor of Restorative Justice, Eastern Mennonite University

"Human Faces is "our" book. We have our mental health issues. Some of us write about our past and present. With black/white pictures, "our" book is about sadness, hope, finding stability, faith and more. Some smiles are real while others are forced, hiding pain. All of us were in Ted's audiences. Can you imagine how many others walk past you every day? Be kind. You never know. Thank you, Ted, Valerie and Steven for your efforts to open the eyes of those who do not see the pain of our journeys. ~ Bev Miller
---
Bios: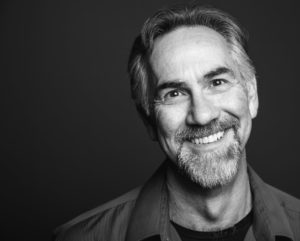 Author Ted Swartz is the artistic director and owner of Ted & Company TheaterWorks and the executive director of the Center for Art, Humor & Soul, based in Harrisonburg, Virginia. Both theater and seminary trained, Ted is the creator or co-creator of more than twenty plays, performing primarily across North America for more than twenty-five years, and is the author of the book Laughter is Sacred Space. His loves include his wife, Sue, and their three sons, three daughters-in-law, and five grandchildren. Oh . . . and baseball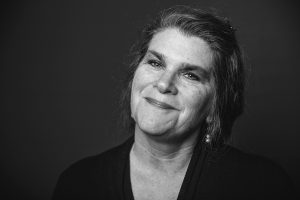 Author/Editor Valerie Luna Serrels is the project director and booking agent for Ted & Company TheaterWorks and the founder and guide of Shenandoah Valley Church of the Wild, reconnecting humans with the natural world in an expanded, beloved community.  She's a card-carrying bibliophile who loves reading, writing, and spending time with trees, bodies of water, and her family—husband Craig, their five incredible grown children, and one feisty grandson. She and Craig live in Bridgewater, Virginia, with their three cats and many bookshelves. Valerie has a master's degree in Conflict Transformation and Peacebuilding with an emphasis on Restorative Justice and is a recent graduate of the School of Celtic Consciousness.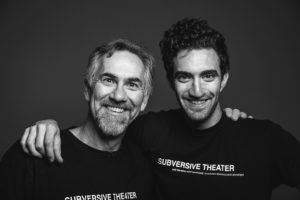 Photographer Steven Stauffer was born and raised in the three-stoplight town of New Market, Virginia, but moved to New York City in 2012 for a slight change of pace. There he spends his time taking photos and shooting/editing video across the commercial, documentary, and narrative worlds. He has worked on many projects with Ted Swartz over the years; this book is their first print endeavor. Steven finds that whether a project is a photo shoot or a film, making a human connection with the subjects and audience alike is paramount to creating a successful work.
---
The Basics:
Published by Ted & Company TheaterWorks in 2020. Book design, cover design and photos (unless noted) by Steven Stauffer. Publishing consultant Beth Daugherty, Bauer and Dean Publishers.
ISBN: 978-0-578-55924-7
Library of Congress Control Number: 2019912231
This book is a project of the Center for Art, Humor & Soul
Sorry, we don't currently have any calendar events to show you. Check back again soon!