October 23, 2018
/
Comments Off

on Dispatches from Durham (not North Carolina). Day One.
Dispatches from Durham (not North Carolina). Day One.
Sue, and the other pilgrims from the second of two pilgrimages to Ireland, boarded planes back home. I wheeled my three suitcases and hefted my back-pack to a different concourse, flying to Manchester, England to begin a 3-month fellowship at St. John's College at Durham University. Following a somewhat arduous train ride, losing my ticket in a turnstile, and standing for 3 hours with my luggage, I arrived at St John's at 10:15 pm. The night porter greeted me after I struggled through winding, narrow hallways and staircases, showed me to my room, overlooking the courtyard. I felt a bit like the young lad in round glasses starting a new adventure at Hogwarts.
The next morning, I walked through town, over uneven street pavements, cobblestones and pavers, down streets seen in several Harry Potter films, discovering that scenes of the first two films were shot at the Durham Cathedral, just one block from my little apartment. Walking through the square – here the appropriately paunchy Elvis impersonator – he's good; there the Chinese kid singing Simon and Garfunkel – he's not.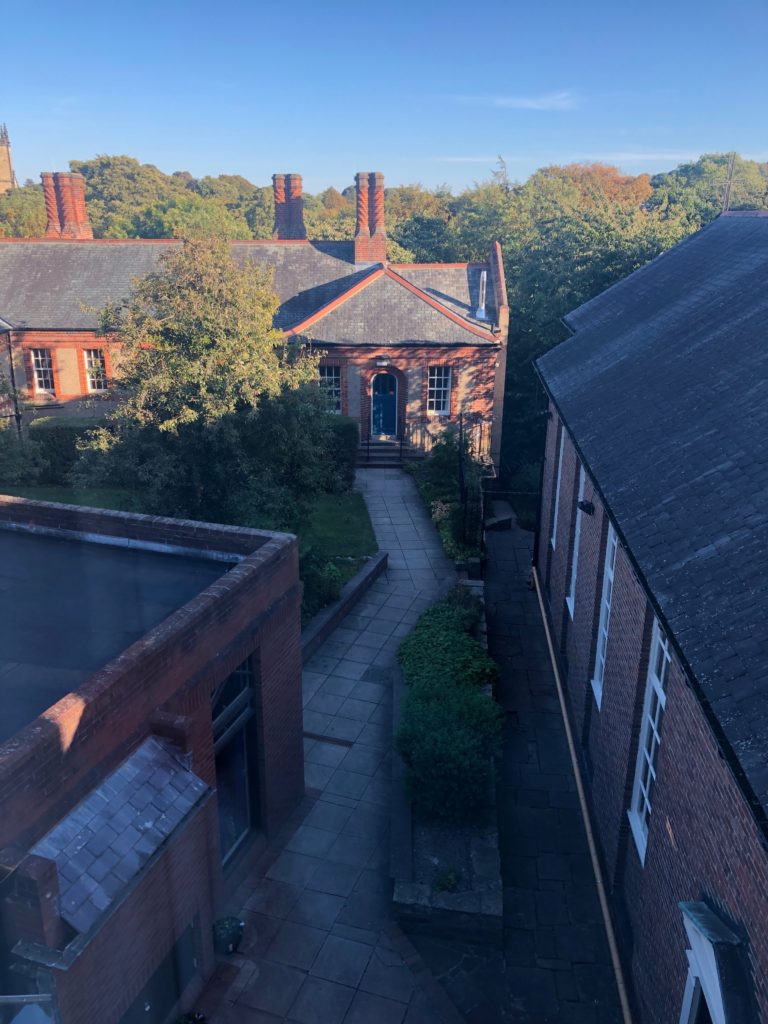 Never knew much about St. Cuthbert, had I ever heard of him? Since I'm now residing in a community begun some thousand years ago, with a castle at its center, it's not hard to discover things about its history…cathedrals sprawling outward and spires upward right down the block. In 995 Cuthbert and his fellow monks traveled from Lindisfarne and settled in Durham. The Cathedral was begun in 1097, and holds the final resting place of Cuthbert himself. Once the center of pilgrimage in medieval England, it's now a World Heritage site, but lucky for me, and other pilgrims, is one of the few cathedrals that doesn't charge admission.