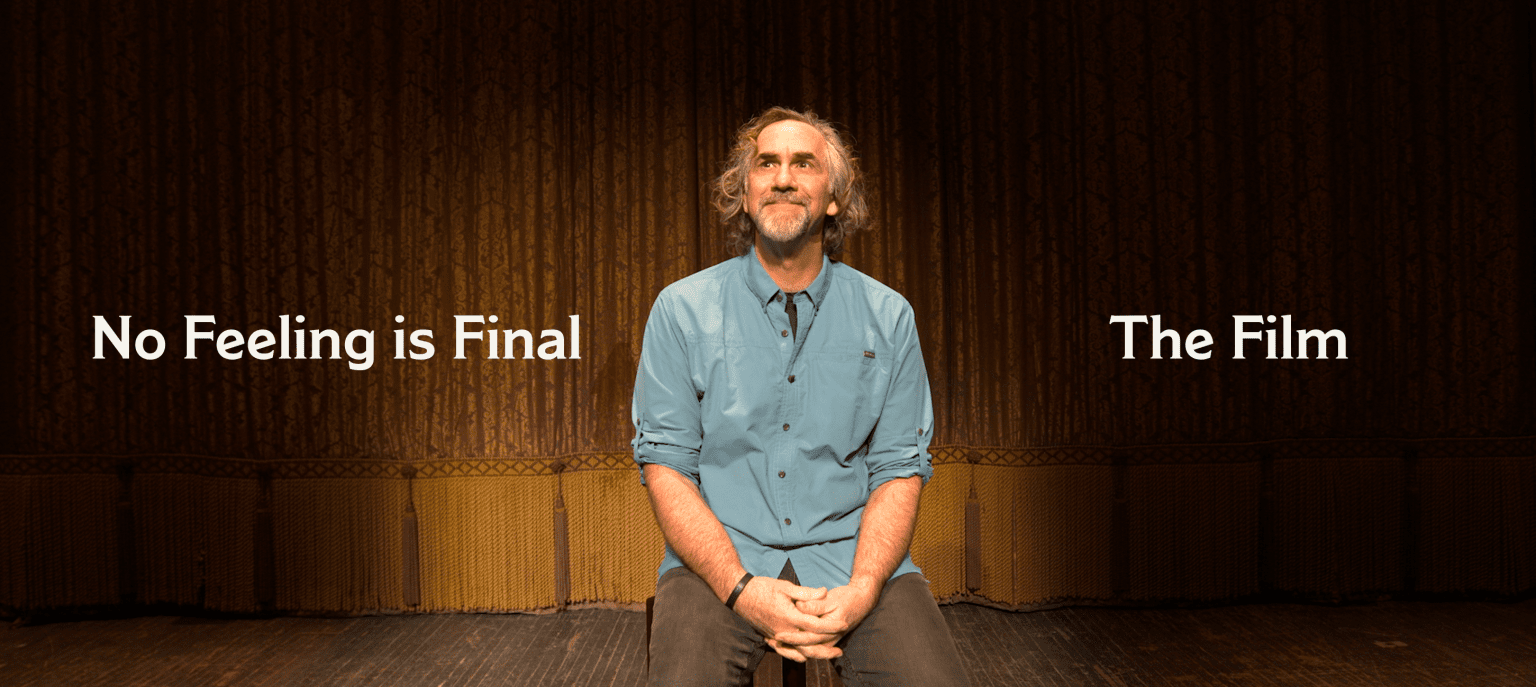 Actor/playwright Ted Swartz arrives on stage ready to play to an enthusiastic crowd… but a global pandemic is taking place. When he realizes there is no audience, Ted moves from performance mode into more vulnerable sharing with the camera, and ultimately, with grace and humor, towards a quietly honest look in the mirror.
He begins by sharing his own mental health journey processing the loss of a best friend and business partner to suicide in 2007, out of which he created a theatre performance (Laughter is Sacred Space). On a tour of that show in 2016, Ted was impacted by the mental health stories shared with him by audience members and the tour's crew of 27-year-olds. These stories, accompanied by gorgeous black and white photo portraits of the storytellers, grew into a book (Portraits from the Human Faces Tour), and then into this film, where Ted reflects on the healing nature of storytelling and community, grief and forgiveness, loss and transformation.
No Feeling is Final is a celebration of resilience, and an inquiry into how telling our mental health stories — both painful and hopeful — can connect and carry us through hard times together.
Available soon for booking and purchase (details below):
No Feeling is Final – The Film.
The film can be accessed for any size group via direct link. The experience of the film reconnects us with each other in community, raises important questions, and stimulates ongoing conversation. Any number of viewers is included for a specified time period. (90 minutes)
No Feeling is Final with Study Guide – Your Story.
The film experience can be expanded and deepened through the addition of an interactive story guide, bringing you into the ongoing conversation. You become companions on the pilgrimage with each other. The guide parallels the film and creates an interactive experience for groups to consider their own lives and stories, opening up space to reflect, journal, and share within groups. This could be done in one extended setting, or over a number of weeks for any number of viewers for a specified time period.
No Feeling is Final with Panel Q&A – Our Collective Story.
This option includes a digital showing of the film, for a one-time showing, followed by live Q&A and conversation with Ted Swartz and/or others involved with this project. During an era of a pandemic that still impacts how we gather, this option provides the closest experience of live theater that we can get online. (120 minutes).
Sorry, we don't currently have any calendar events to show you. Check back again soon!