February 1, 2010
/
Comments Off

on Goin back to Talmage…with Indy
Goin back to Talmage…with Indy
Over looking an Amish cornfield—ok, the field's not Amish, the farmer's Amish… Anyway, Jeff and Cindy Raught live in Talmage, PA—a town (I don't think you can even call it a town) in Lancaster County, PA. That's Lancaster—emphasis on first syllable—swallowed quickly—"langkister." Talmage does have a post office but with very limited hours—don't even think about picking up your mail after 4:00. Lois is apt to be cross. (Cross—that's Pennsylvania Dutch for P.O.'ed.) The area is amazing for bike riding—the rolling hills, lack of traffic, local smells, and calmness that is evoked by a slower paced life in the Amish community is intoxicating. It's almost a cliché to talk about it, but it just seems different to ride there.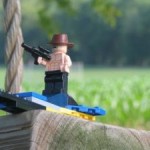 I've spent many days at Jeff's house writing and rehearsing. Years ago they turned their garage into a recording studio and rehearsal space—with Jeff 's grand piano as a centerpiece. Much of the finish work for Tattered and Worn was done in that space, as well as Just Give 'Em the News. In the summer of '08 I spent a week there. Ed, their youngest son, was home from college and working evenings, so he slept in longer than Jeff and me. When he did get up, I would shout to Jeff—"Look Father, young Ed has arisen!" It seemed funny to us, and so he will always be to me "Young Ed." He calls me Uncle Ted.
I met Jeff in winter of '05, but I knew his street well. I hadn't been there in over 20 years, though. My grandparents, Titus and Florence Wert, lived in the house three doors down from where Jeff lives now. We visited that street many times as a kid. Sunday afternoons: my dad asleep in the rocker, Mom talking to my grandmother, shouting at my grandfather (hearing aids back then weren't what they are now!), my brother and I in the basement looking at every National Geographic magazine ever published—all in neat rows on shelves. No TV, no sports, not a lot of room to throw baseball…and now I get to go back to Talmage…pretty cool.