June 6, 2013
/
Comments Off

on Incarnation we can ALL participate in
Incarnation we can ALL participate in
I've been thinking about Christmas recently… haven't we all? No? There's something slower-paced and more reflective about considering this significant event apart from the holiday season itself, don't you think?
Christmas. It's a bit odd at times to consider the kind of event Christmas has become…ostensibly it is an event to celebrate the birth of Jesus, more often a co-opted excuse to sell and buy stuff. It's an old complaint, one that has almost become its own cliché. So that by the time we finally reach Dec. 24, instead of anticipating a celebration, many of us are relieved it's almost over, completely overrun by incipit Christmas songs, and even tired of non-incipit carols.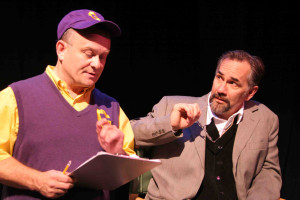 At Ted & Company, we have become known for doing biblical story well, but offering something… different. It's not your typical church drama. Our first impulse when looking at a story is to ask what's funny and notice how this discovery of the humanity in biblical characters leads us to an "aha" moment. It's the laughter that leads us to a deeper understanding.
We have a Christmas show, Just Give Em the News. The title is taken from a scene in the show, God's admonition to Gabriel after Gabe asks, "What should I sing?"  God's answer, "Just give 'em the news."
Some of my favorite Jeff Raught moments are in "News". Consider the James Brown infused classic, "Get Mary Off the Donkey, She Gonna Have a Baby Tonight". While you may not go home humming the tune, it will certainly make you laugh.  Or his earnest portrayal of Gabriel who is desperate to get the job recently posted in the angel locker room… with a few alterations. "Can I wrestle her? Like I did with Jacob? Because I figured out what went wrong there."
Christmas is ordinary time, in the sense of the ordinariness of incarnation happening. Both Jeff and I are drawn to the surprise and
simple beauty of an incarnation first announced to the lowest in society. It's how we react against the glitz of the season, against yet another pop Christmas album. Jeff is worse than I am. Every year he and his wife Cindy bring the tree in from "the fields". No, it's not a post card hallmark moment set in a snow covered meadow, a sled and beautiful pine tree cut from the lush forests of the north forty. No, they just bring in a stick found lying in the yard and stick it in a bucket—lights are optional. They are only sentimental when it comes to people.
In the words of Schmiddick the shepherd, "Don't be bringing something in here we can't ALL participate in."
We would love to share this story with you, a story you've heard hundreds of times before… but never quite like this. It might be the perfect choice for your company banquet, special event at church, or public performance. And we're willing to make you a deal – book a show on a Saturday night and we'll do your Sunday morning service as a bonus.
There is a sweetness to the show, a quirky, original, fun take on a story that sometimes loses its profundity in the midst of its familiarity.  We'd love to share this story with you.
To ask about our availability for Just Give Em the News or another Ted & Company show, send us a note. We'd love to hear from you!