Description
In this 9-10 minute scene, Mary and Joseph meet at a restaurant where Joseph learns that Mary is pregnant. Levity is maintained with a waiter who is trying to take their order, and Arnie Puffkin, a lounge singer who is entertaining. (The waiter and Arnie can be played by the same actor or two different actors.) This scene is from the full play, DoveTale.
Fee ($25) to download this script includes royalty payment for one performance or for performances of this scene for multiple church services on the same day.
Click on the sample image below to view a full script preview.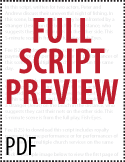 A video download of this scene is also available.
Only logged in customers who have purchased this product may leave a review.