Description
A script for two actors, this scene is based on Genesis 15:1-5 and features Abram and the angel Gabriel, who comes with some interesting updates. He tells Abram that not only will his name change, but also that he and Sarah will have a son and Abraham will be the father of many nations. In this funny 10-minute scene, they discuss many things, including Lot, Ishmael, and circumcision. This scene is from the full play, Creation Chronicles.
Click on the sample image below to view a full script preview.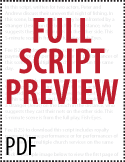 Fee ($25) to download this script includes royalty payment for one performance or for performances of this scene for multiple church services on the same day.
A video download of this scene is also available.
Only logged in customers who have purchased this product may leave a review.