Description
In this creative retelling of Jesus' baptism, 10 actors, a pianist/singer, and a "Voice of God" help the audience to imagine what may have been going through the minds of John and the disciples as they began to realize whom the Old Testament prophecies were really talking about. Based on Matthew 3:1-17, this fun and musically-enhanced scene runs about 10 minutes.­
Fee ($25) to download this script includes royalty payment for one performance or for performances of this scene for multiple church services on the same day.
Click on the sample image below to view a full script preview.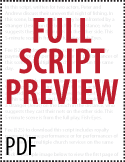 Only logged in customers who have purchased this product may leave a review.