Description
In this scene, written for eight actors, Jehovah judges the elders and leaders for what has taken place in Jerusalem and Judah. Based on Isaiah 3, this 5-minute scene makes a serious point with a bit of humor.
Fee ($25) to download this script includes royalty payment for one performance or for performances of this scene for multiple church services on the same day.
Click on the sample image below to view a full script preview.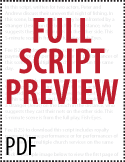 Only logged in customers who have purchased this product may leave a review.