Description
A scene for two actors, this script is based on Acts 9:1-19. Ananias visits a recently blinded Paul and heals him. In this 5-minute scene, Ananias speaks to Paul about what God is calling him to do now that he knows the Truth.
Fee ($25) to download this script includes royalty payment for one performance or for performances of this scene for multiple church services on the same day.
Click on sample image below to view the first page of this script.
Click on the sample image below to view a full script preview.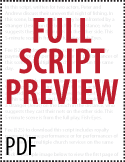 Only logged in customers who have purchased this product may leave a review.