Description
A script for three actors, this 7-minute scene features Joseph, Reuben, and Judah in a confrontation that leads to a revelation. As Reuben and Judah begin to realize Joseph's true identity, they also experience the love and forgiveness that Joseph extends despite all he endured on their behalf. Based on Genesis 42-45.
Fee ($25) to download this script includes royalty payment for one performance or for performances of this scene for multiple church services on the same weekend.
Click on the sample image below to view a full script preview.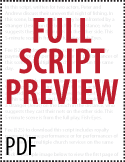 A video download of this scene is also available.
Only logged in customers who have purchased this product may leave a review.