Description
Written for four actors, this script features James and three others (including a woman) as they determine which parts of the Law should apply to Gentiles joining the Church. Lighthearted and filled with witty dialogue, this 7.5-minute scene will allow people to imagine what went into the thought and planning before James made his proclamation regarding Gentiles. Based on Acts 15:1-21.
Fee ($25) to download this script includes royalty payment for one performance or for performances of this scene for multiple church services on the same weekend.
Click on the sample image below to view a full script preview.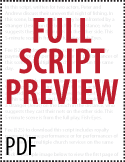 A video download of this scene is also available.
Only logged in customers who have purchased this product may leave a review.