Description
A script for two actors, this entertaining 6-minute scene features a TV reporter and an eyewitness to the events at Pentecost. Based on Acts 2:37-47, a simple vegetable salesman (Buster) tries to explain the unexplainable to an inquisitive reporter, who just can't wrap his mind around Buster's stories of wind that didn't actually blow and fire that didn't actually burn.
Fee ($25) to download this script includes royalty payment for one performance or for performances of this scene for multiple church services on the same weekend.
Click on the sample image below to view a full script preview.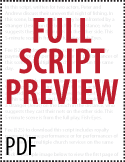 A video download of this scene is also available.
Only logged in customers who have purchased this product may leave a review.