March 13, 2015
/
Comments Off

on To There and Back Again
By Ted Swartz
Feb 13, 2015 in Freeman South Dakota, I performed "Laughter is Sacred Space." (Click here for a decent review of the show.)
Laughter reflects my relationship with Lee Eshleman, our discovering one another, our work together, and resulting 20 year friendship. And then, following his death, the period of grief and recovery that seemed to take forever.
I knew Lee and I had been in Freeman many years ago, but couldn't remember the date. On our way into town I saw a large sign directing folks to downtown Freeman—yes, there is one! The sign spurred a memory for me. When Lee and I were here many years ago, we climbed up on the sign, which was advertising our shows that weekend, and our host took a picture….the host whose name I hadn't quite been able to remember—until the sign. It was seeing that picture that spurred my memory and I remembered our hosts name. Marge Waltner. She was at the show….so nice to see her again! During the play, I showed some photos of Lee and I, and before the show I scoured my computer and found that photo Marge took of us.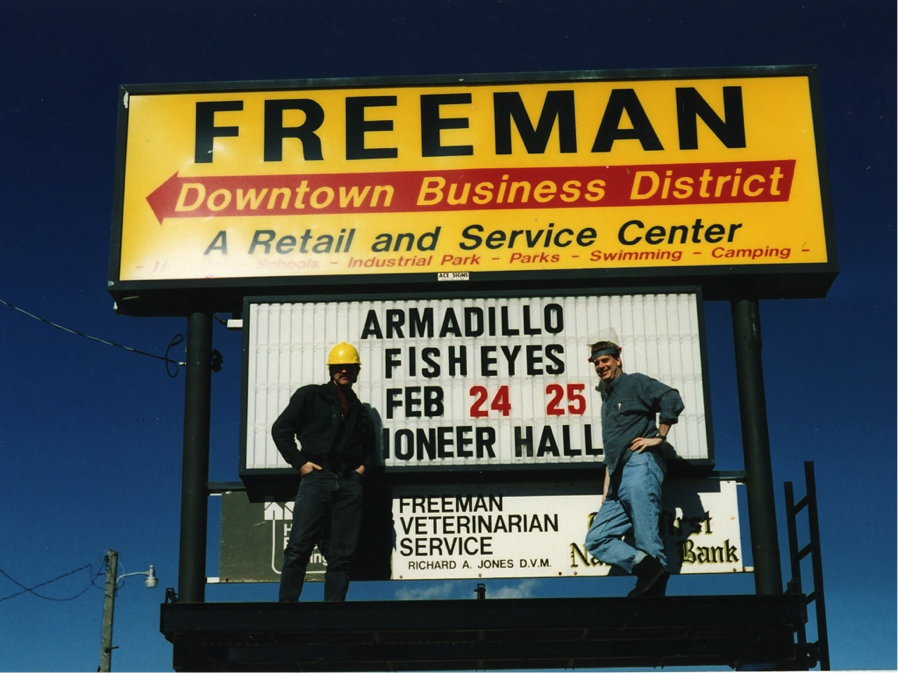 The show went well, and during the conversation/talkback following the show I told the audience that I couldn't remember the date when we were here last but it was around annual Schmeckfest. Lee, as Nigel Nevilleson, loved to say the word Schmeckfest, as I recall.
The man who had been taking photos raised his hand and said "I remember when you were here, because I covered that show too. It was 20 years ago", almost to the exact date, according to our photographic evidence.