A cover. So the cliché is not true. You can, in fact, judge a book by its cover. Or that's what I'm being told. I've had some say they couldn't buy the book, or a distributor wouldn't carry it, because of the cover.
I wrote a book which was published last year. This is the cover: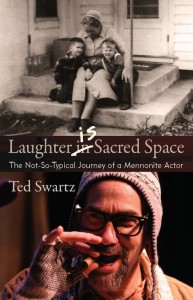 The photo on top is of me and my brother Tim, embraced by our grandmother. It is emblematic of my childhood memories. The photo on the bottom is 50 years later. It is a close-up, with high-end calibration and with lots of pixels thingies. It was taken by Lowell Brown of Lancaster county Pa and if you are in that area and need a photographer, call Lowell. The shot is of Schmidick, a character from "Just Give "em the News", our Christmas show, written with actor-writer-composer Jeff Raught.  Schmidick is a shepherd, one who is confronted by the angel Gabriel to announce the birth of Jesus…
Gabe: Hark!
Schmidick:  Hark , whatta ya mean hark?
Gabe: It means …hark. I have something important to say.
Schmidick:  You could have said listen up, pay attention…but no, you went with "hark"
Gabe: Seemed to add a little zip.
Schmidick : Zip, that's what you thought.
Gabe: Okay
Schmidick : This is a very pragmatic operation, we don't have much time for zip.
Gabe: Right, got it, no zip.
When Schmidick was conceived in 2009, he seemed to want a cigar in his hand. The cigar became part of his tool kit. When it is tucked in the corner of his mouth, the words come out differently. It becomes a pointer, a way to emphasis an important piece of dialogue. It was crucial for Schmidick to be rough around the edges, a survivor in a hardscrabble existence on the edges of society. The cigar is a prop, symbolizing that the characters in our precious and sacred stories are not cuddly, safe or particularly clean.
Schmidick: Tough being a shepherd, lots of animosity toward those that follow the woolen path….so don't be bringing something in here we can't all participate in.
I have never smoked a cigarette in my life. I have smoked, I think, three cigars—all in honor of, and in the presence of the late Mike Yaconelli, one of my all-time heroes.
So it is sad to me that the book is, in fact, judged by the cover, because of a character who truly wants to participate in the kingdom that Jesus is bringing, a character who knows he'll never be accepted in the present society.
This is the good news. Jesus has come. He is bringing a new kingdom…for all.  Even the cigar-smoking shepherd.