December 20, 2013
/
Comments Off

on At Christmastime – Seuss and Sharing
At Christmastime – Seuss and Sharing
Our oldest son Eliot is a first grade teacher. He was a "pied piper" when he was a kid—younger children always seemed to be following him around. He wasn't necessarily cultivating their attention, there just seemed to be something about him. So it was no surprise to Sue and I when he decided to become a teacher.
The past 2 years around Christmastime, Sue and I have been invited to visit the school where he teaches.  I read Dr. Seuss's "How the Grinch Stole Christmas"…needing to tell a couple of the kids that, while Theodore Giesel and I have the same first name, I am not, in fact, Dr Seuss. It's good alliterative practice to read Seuss and always wonderful to watch faces of rapt attention.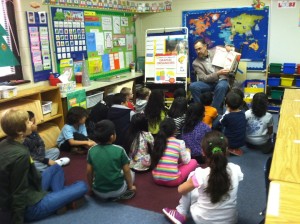 Sue and I then help the kids make  "Grinch" faces–what makes the Grinch grin? Thanks Eliot for the gift of sharing your class.
Lovely time, lovely kids…great teacher.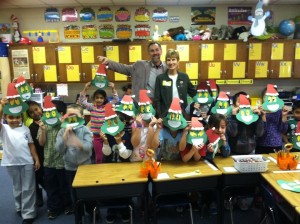 Thanks also to all this year who helped make this a great year for Ted and Company. Look for us in your area in 2014!
One more note, since this is the season for giving, if you need ideas of alternative giving, please consider the great work Mennonite Central Committee does, in light of the desperate situation of many in the areas of refugees of war and conflict:  https://donate.mcc.org
Have a great Christmas and holiday season.
Ted