April 1, 2010
/
Comments Off

on Fun times with volunteers in NC
Fun times with volunteers in NC
A couple months ago, Ted & Jeff had the privilege of providing the entertainment for a celebration at newhope church, in Durham, North Carolina. Every year the church celebrates its volunteers with a bash, and we got to perform for them at this year's event. It was truly an honor for us to be there with this church, and even more humbling were the words from their pastor, Benji Kelley, posted on his blog.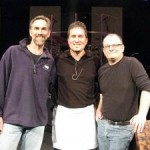 Here's what Pastor Kelley said about the event:
"If you are a pastor out there, or a senior leader in the business world, let me tell you about Ted & Company TheatreWorks. I usually don't do these kinds of endorsements but these guys are REALLY good!
Last month, we honored all of the volunteers of newhope church! Plain and simple – without our volunteers our church is nothing. So, we like to throw ginormous parties for these folks at least once a year!
We hosted a special evening at the church whereby all the staff wore black clothes with white serving aprons! We were able to serve hundreds and hundreds of newhope volunteers. We went all out! We provided fancy-smancy deserts, a chillaxin jazz band, and the entertainment was provided by Ted and Jeff of Ted and Company.
What I admired most about these two men was the way in which they took humor and theology and the Bible and seamlessly wove it all together to the glory and honor of Christ. They gave our volunteers, and our staff I might add, the gift of humor and inspiration. If you are looking for good hearted, meaningful and wholesome Christian entertainment, without all the cheesiness that often accompanies such an endeavor, then I highly recommend Ted and Company.
So there you have it, my rare endorsement/commercial post… :-)"
**
We are grateful to Pastor Kelley (and all the volunteers of newhope church) for the opportunity to perform for all of you, and we look forward to doing it again soon!
PS – we thought their celebration of the volunteers was a great idea! If you want to do the same thing in your church or ministry, let us know…we'd love to join in the party!