September 21, 2012
/
Comments Off

on Discovering and Re-discovering Laughter IS Sacred Space
Discovering and Re-discovering Laughter IS Sacred Space
Laughter has always been a huge part of my working career, working as a writer and actor in comedic theater.
Most etymologists, those who study where words come from, believe that the word humor is derived from the same root as in the word human, humility and — my favorite — humus, meaning "of the earth, connected to the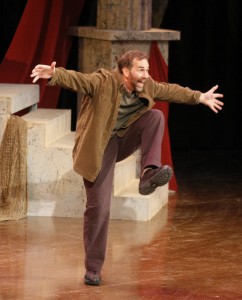 dirt, soil" — that which makes things grow, where things are real, gritty and full of nutrients. To laugh is to be grounded in the best possible way. A sense of humor is a proclamation that I am fully human.
It is a sacred space.
On a path to be a Mennonite pastor, I had gone back to school at age 30 in order to prepare for seminary, along with three small children, a supportive wife and a congregation sponsoring us. While in undergrad I took an acting class, and fell in love with this art form.
When actors are free to experiment it can be the most exhilarating place on earth. Acting onstage can be like falling in love, when the creative spirit jumps out of you and begins dancing with the spirits of the others in the scene, when the sparks are almost visible, when you can feel the cords of energy connecting you to your acting partner, when you feel the audience leaning forward, wanting to share in the same energy. Where you come off stage and ask, with wonder and awe, "What just happened there? And when can we do it again, feel that again?"
In those acting classes and productions, I discovered the mystical and spiritual life for the first time. Theater helped me to see the world of the invisible, showed that forces greater than ourselves are at work and play in the world. I had discovered who I was; I was an actor.
At around that same time I met Lee Eshleman, who became my comedic soul mate, and for the next 20 years we created six full-length theatrical and comedy shows, carved out a business and a full-time living in the performing arts — a task of love, sweat and determination.
We were exploring life and sacred texts with an eye toward what was askew, peculiar and above all — where was the funny? Always, what was funny? It was a celebration of laughter as a healing art, a teaching method, an absolute affirmation that humor is a profound and indispensable societal lubricant.
Much of our material was mining the humor in the biblical story. We felt if you could find the humor inherent there, you would discover a deeper human story, and then perhaps come to a greater understanding of the ongoing dynamic, frustrating, mystifying, relationship between God and humankind.
Lee made me laugh more than anyone ever had before. It was the genesis of our relationship and the glue that enabled us to endure conflicts in creative decision making, not to mention, some years, spending more time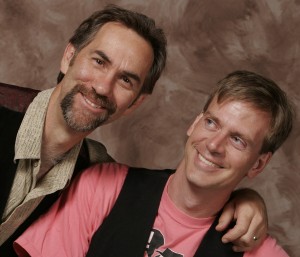 together than we did with our spouses.
Transferring to the stage what made the two of us laugh was the simple formula of writing and performing live. We were each other's incubator partner, if it made us laugh, there was an excellent chance it would do so for an audience.
Laughter was our method of illuminating both our relationship with the people we met and performed for, but also a way to understand the world, as well as God — until Lee's suicide in 2007.
And the laughter pretty much stopped for me.
Lee had been dealing with depression pretty much the entire time of our friendship and creative partnership, and that spring he lost the battle. Lee's struggle was a paradox, someone who made so many people laugh and consequently embrace their full humanness, had profound doubts about his worthiness and connection to the God we wrote so much about.
His death destroyed the business and cast into doubt whether I could continue writing and performing for a living. It was difficult to envision being able to induce laughter from the stage, but it was equally difficult to envision a life without theater.
I would say, five years later, I'm certainly not an expert on healing or being a survivor of suicide. I will say that theater and art still hold keys to my identity and recovery. In those five years I wrote plays, almost manically creating and producing, paradoxically both running from and embracing grief, anger and guilt. Not coincidently perhaps, it produced some of my best work.
The laughter, like a dormant perennial, began to return.
Laughter never stopped being sacred space; it just took me a while to find that space again.
Art, theater and laughter were the barometers and light posts back from my own depression and grief. While humor remains the launch point for all of my work, it's different now. There is a depth, a shadow, a perception only earned through grief and determination.
Loss changes you — grief changes. In the words of a character of mine written in 2008, "In this life there is grace, but never enough … there is peace but never enough … there is love … but never enough … but we take what we have … which is never enough … we break it and we pass it out."
Lee used to say laughter is a sign that we are never too far from the love of God. I believe he was right.
*This blog entry appeared September 20, 2012 in the Huffington Post.
Purchase Ted's book Laughter is Sacred Space or experience the live performance by inquiring about bringing a show to your area.