Laughter is Sacred Space: A Tour and a Gift
In the fall of 2012 I am kicking off a tour of Laughter is Sacred Space, a multi media show based on my relationship with Lee Eshleman, my creative partner of 20 years.  It reflects the joy of discovering comedic soul mates,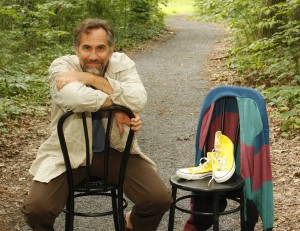 illustrates the struggles and euphoria of creating a career together, and explores the journey through grief after Lee's suicide.
Live theater is an experience that can't be duplicated. When an audience and actor share the same physical space you have the possibility of intimacy, impossible in TV or film.  When someone makes a decision to attend a live theater event, they are making an emotional commitment to being involved in the story, the imagination of the writer, the vision of the director, and in the lives of the actors.
Actors are a strange lot. Some people might think an actor is someone who puts on something in order to hide. But in reality, an actor peels something away, revealing just what is inside or underneath — an often exhilarating and simultaneously wrenching experience. And this experience is heightened when the story they are attempting to tell has actually happened, as honesty and real life compels us to be pulled in further.
The audiences Lee and I performed in front of have been a part of that true story. Our audiences, our  "other acting partners" have shared in the 20-year relationship between Lee and me. Theater performers create a relationship with audiences to the point where they think they know us. And if we have done our job with integrity and honesty, they do.
Lee and I worked so very hard to allow you into our worlds, because theater can't be done any other way. And when Lee took his life the grief and mourning reverberated throughout the communities who thought they knew us personally . . . and you did.
This tour is, in part, a gift back to the people who knew us, supported us, lifted us through laughter, applause and warmth. Each of us has to make our own journey through grief and mine desperately needed the healing of theater and the best of what this art form can give — community, spiritual connectedness, a sense we are in this painful journey together.
Writing and performing Laughter is Sacred Space is part of my healing. I would like it to be part of yours.
One way we hope to invite you into the story is that this show will conclude with a time of "Q & A," a chance for you to ask questions or share stories. On one occasion, a young woman, who had seen Lee and me many times, asked, not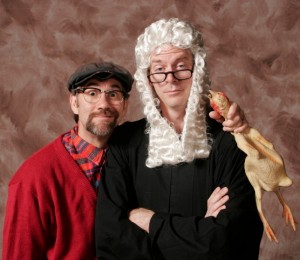 about periods of grief, or how I dealt with moving on from trauma and suicide, but rather, "Could you do June Bug Reunions?" Lee and I would often open our comedy shows with a very silly sketch, imitating different animals at class reunions. The June Bugs section was simply the two of us scurrying onstage, buzzing frantically, bumping into walls and furniture and then spilling onto our backs, kicking our feet feebly as we "died." I was delighted to bring our past into the present and do a solo version of the inept June bugs, Frank and Bill, for the first and, to this date, only time.
It was my favorite question of the evening. The laughter she gave me in that solo June Bug Reunion was, for both of us, a sacred space.
And my hope through this tour is that many more of us can share in the same.