May 27, 2014
/
Comments Off

on Meet our Intern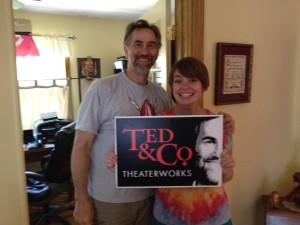 Jen was first introduced to the work of Ted&Co through the well worn VHS (yes…VHS) series FishEyes that her mother kept in the office at church. Delighted by a realization that biblical stories could be told through theatre and even better that they could be funny – Jen took off for the Church of the Brethren's National Youth Conference in Colorado and went to every single event Ted and Lee performed. Too shy to actually say hi on her own, Jen's mother approached the two actors and said, "My daughter is going to be angry at me for doing this, but she's too shy to say hi. Would you sign this piece of paper so she can have your autographs?" Thus Jen received a crumpled piece of paper that read "Don't be mad at your Mom." Signed Ted and Lee.
A few years later as a theatre major in college, Jen sat down at her computer and wrote Ted an email. She asked him questions about life as an actor, what it was like running a theatre company, and told him how much FishEyes had impacted her life. She had after all, become a theatre major.
Ted meant to reply to the email. He really did. It sat on his desk top for two years.
A few years later as a seminary student, Jen sat down at her computer again. A part of her education at Bethany Theological Seminary is a required internship to last the length of a summer. When asked to dream about how she'd like to spend that summer Jen thought about Ted&Co. She sent Ted an email (much shorter than the last) asking if he'd be interested in having an intern. It was a shot in the dark, a dream of grandeur, another email fated to land unanswered on a desktop for two years.
But an hour later, Jen received a single word from Ted's iPhone – "Yes."
The moral of the story is – Ted is a man of very, very few electronic words.
Jen is entering her senior year at Bethany Theological Seminary working toward a Masters of Divinity with an emphasis in Peace Studies and ministry focus in Conflict Transformation. She has a heartbeat for Theatre and is absolutely delighted to be working with the company this summer. She even plans on getting the answers to those questions Ted never answered all those years ago…
 Do you have a fun question you've always wanted to ask Ted? Leave a comment on this post – and I (Jen) will see if I can get him to answer your unanswered questions along with my own!