Description
In this 6-minute scene written for two actors, Peter and Andrew eavesdrop on a late-night conversation between Jesus and Nicodemus. As they listen to Jesus telling the man he needs to be reborn, the two consider the real meaning behind the words. Keeping the scene light and humorous, the idea of rebirth even brings up a vivid memory of Andrew's own birth…or something like a birth. Based on John 3:1-21.
Fee ($25) to download this script includes royalty payment for one performance or for performances of this scene for multiple church services on the same day.
Click on the sample image below to view a full script preview.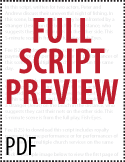 Only logged in customers who have purchased this product may leave a review.