Description
The first scene, Desert Songs, features a 3-minute monologue from an energetic glee club president who tells the history from Abraham through Moses leading the children of Israel into the wilderness with sing-alongs. This leads into The Golden Calf, an 8-minute scene in which Moses returns from 40 days on the mountain to discover that Aaron has led the Israelites in building a golden calf. Based on Exodus 32. These scenes are from the full play, Creation Chronicles.
Fee ($25) to download these scripts includes royalty payment for one performance or for performances of this scene for multiple church services on the same day.
Click on the sample image below to view a full script preview.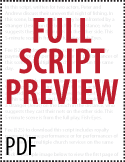 A video download of this scene is also available.
Only logged in customers who have purchased this product may leave a review.