Description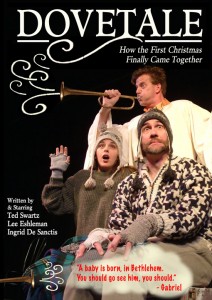 DoveTale is a Christmas story unlike any other. Performed and written by Ted Swartz, Lee Eshleman and award-winning playwright Ingrid De Sanctis, Dove Tale takes you inside the hearts and minds of the angel Gabriel, Mary, & Joseph as they each struggle, in often hilarious ways, to understand what having this little baby in the world means, both to their relationship with one another and to their relationship with God.
This special DVD includes bonus material, including interviews with the actors, clips from the very first DoveTale performance, outtakes, and much more. Closed-Captioned and subtitled in English and Spanish.
80 Minutes
Scenes
The Announcement
At Bartholomew's
The Phone Call
The Dream
The Reconciliation
No Room at the Inn
Shepherds with Their Flocks
The Barnyard Chorus
Your Eyes?
Only logged in customers who have purchased this product may leave a review.