Description
Written for three actors, this 6-minute scene features shepherds Maggie and Egan, knitting on the hillside when the angel, Gabriel, appears to them. After questioning why a baby would be born in a manger, they dance off to see the child, leaving Gabriel with the sheep. This scene is from the full play, DoveTale.
Fee ($25) to download this script includes royalty payment for one performance or for performances of this scene for multiple church services on the same day.
Click on the sample image below to view a full script preview.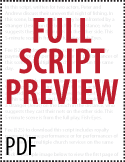 A video download of this scene is also available.
Only logged in customers who have purchased this product may leave a review.