Description
Present half the Bible in one evening! Creation Chronicles is based upon Old Testament literature and opens with a scene from Genesis: the creation of the earth, the sky and all things. A jubilant God explains to "creative consultant" Gabriel about gravity, elephants and even puns. Finally God unveils an early draft for humans, wondering aloud just "what they will do."
Creation Chronicles takes new angles on old stories to examine God's various attempts at relationship with and understanding of human beings, culminating in something totally new: the advent of Christ. Along the way are various detours including a hilarious rendition of Song of Solomon. Originally written for two actors, the play has 17 characters, so could include a cast of that many. 90 minutes.
Royalty Payments are required for each performance.
Scenes include: The Creation / Cain & Abel / The Flood / Tower of Babel / Abraham / Desert Songs / The Golden Calf / Jericho / Samuel / Solomon / Jeremiah / WXPR TV / Jonah / Advent
Purchase of the full script download ($55) includes permission to duplicate the script as needed.
Click on the sample image below to view a full script preview.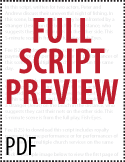 *Individual scenes from Creation Chronicles are available for download. Search for the play by name to see all the scripts from this play.
Only logged in customers who have purchased this product may leave a review.