Description
A script for two actors, this hilarious 9-minute scene shows Aunt Elizabeth on the phone with Mary while Uncle Zechariah plays charades to get his two cents into the conversation (since he's been rendered mute because he didn't believe he'd have a child at his age). This scene is from the full play, DoveTale.
Fee ($25) to download this script includes royalty payment for one performance or for performances of this scene for multiple church services on the same day.
Click on the sample image below to view a full script preview.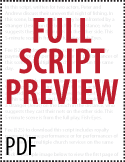 A video download of this scene is also available.
Only logged in customers who have purchased this product may leave a review.