Description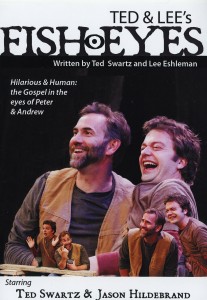 First written and performed by Ted Swartz & Lee Eshleman to thousands, this  DVD tells the story of some of Jesus' most memorable moments through the eyes of Peter and Andrew, two of his disciples. With original music by Trent Wagler of Steel Wheels, these funny yet powerful performances help us see a very human reaction to this mysterious life-changing teacher.
75 Minutes
Scenes
The Call
Wedding at Cana
The Day after the Day on the Mount
Feeding of the 5000
Walk on Water/Boatride
Don't Tell Anyone
Triumphal Entry
Last Supper
Foot Washing
Arrest & Denial
Upper Room
Breakfast on the Beach
This DVD is also available in our 4-pack of DVDs called The Big Story.
Only logged in customers who have purchased this product may leave a review.