Description
Two scripts are included in this download. The Arrest (3 minutes) shows Peter and Andrew working through the trauma of Jesus' arrest. In The Denial (3-4 minutes), we see what happened in the hours following Peter's denial of Jesus. Based on John 18, these scenes are from the full play, Fish-Eyes.
Fee ($25) to download these scripts includes royalty payment for one performance or for performances of this scene for multiple church services on the same day.
Click on the sample image below to view a full script preview.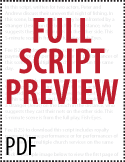 A video download of this scene is also available.
Only logged in customers who have purchased this product may leave a review.