Description
Written for one female actor, this script features Shiphrah, a midwife, in conversation with a soldier (who is offstage). While she seems a bit forgetful, in this 4.5-minute scene based on Exodus 1:15-21, Shiphrah plays coy and manages to get through a difficult conversation about the order to kill all the Hebrew babies.
Fee ($25) to download this script includes royalty payment for one performance or for performances of this scene for multiple church services on the same weekend.
Click on the sample image below to view a full script preview.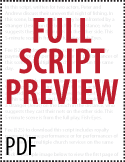 A video download of this scene is also available.
Only logged in customers who have purchased this product may leave a review.