Description
In this original script written for 13 actors, you find a judge, a bailiff, Jesus, four defendants, a man with a withered hand, and five members of a "Greek Chorus." Throughout the course of this 10-minute scene, based on Matthew 12:1-14, various defendants are brought before the judge, including Jesus. Jesus goes on to defend the actions that led to the breaking of the Sabbath, while the chorus adds observations, drama, and humor to the scene.
Fee ($25) to download this script includes royalty payment for one performance or for performances of this scene for multiple church services on the same day.
Click on the sample image below to view a full script preview.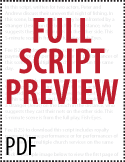 Only logged in customers who have purchased this product may leave a review.