Description
Written for two actors, this humorous scene is based on Acts 4:1-12, and shows what happened to the lame man after Peter and John healed him. In this 4-minutes scene, Larry is leaping and jumping, making him unrecognizable to Bill. After he convinces Bill that they know each other, Larry explains how he is suddenly able to walk, jump, and even feel a swift kick in the pants.
Fee ($25) to download this script includes royalty payment for one performance or for performances of this scene for multiple church services on the same weekend.
Click on the sample image below to view a full script preview.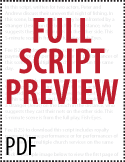 A video download of this scene is also available.
Only logged in customers who have purchased this product may leave a review.