Description
In this script for two actors (Peter and an angel), Acts 10:1-23 is explored. During the 6-minute scene Peter wrestles with being told by the angel to eat things that are considered unclean according to the Law, and to tell a man who is not a Jew about Jesus.
Fee ($25) to download this script includes royalty payment for one performance or for performances of this scene for multiple church services on the same weekend.
Click on the sample image below to view a full script preview.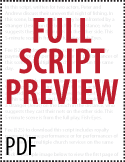 A video download of this scene is also available.
Only logged in customers who have purchased this product may leave a review.