Description
Written for 7 actors, this fun script retells the story from 2 Kings 5:1-18. In this scene, which runs about 8-10 minutes, humorous observations from the narrator and a servant girl add to the lightheartedness of the story. Ultimately, after several stops along the way, Naaman gets to Elisha (well, first the servant of Elisha), and is finally healed.
Fee ($25) to download this script includes royalty payment for one performance or for performances of this scene for multiple church services on the same day.
Click on the sample image below to view a full script preview.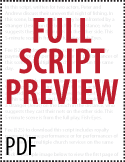 Only logged in customers who have purchased this product may leave a review.