Someone asked me recently why I still go to church. The question came out of a conversation where the asker had stopped going, a result of several factors – rejection of fundamentalism, hypocrisy of attendees, a middle aged opening of the mind to the possibility of doubt.
My answer was in part: " You never know when God might show up."
"So why do you need to go to church to find that?"
Me: "Because, I like gathering with people who are looking for the same thing and you don't get that without showing up."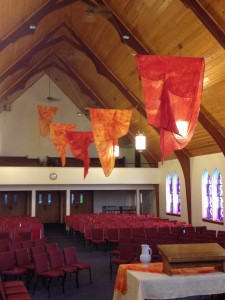 I walked into church this spring, to see floating fabric rippling in the currents of air. They were strung from the front of the sanctuary to the back, drawing your eye up and then toward the peak at the front of the church. They were sheer; orange, red, yellow, and gold. It was Pentecost season and the fabric was emblematic of the spirit moving in our midst. Art and metaphor have the power to engage us in ways few other avenues can claim. We've heard that before, they sound like nice words, but what does it mean?
Theater, is, at it's roots about metaphor. It's an angled mirror to greater meaning that we may miss looking directly at an issue, problem, or question. A story well told, plus your imagination, will trigger deeper consciousness. We are wired for story; we are wired to appreciate beauty.
These fabrics reminded me each week of the possibility that the spirit may infiltrate my life …fire and wind and surprise.
A key element in theater, art and especially humor is surprise. The next time you laugh, reflect on why—there's a good chance surprise is a part.
Surprise…. Coming back to these fabrics though. I thought they all looked a little familiar, reminded me of something I'd seen in a different context. The flow, the colors….It wasn't for a couple of weeks until I found out why.
These metaphors, the art that reminded me of the Holy Spirit, of a presence that comforted and agitated, I had seen them before. They were the belly dancing veils hand made by Rose Shenk and Terry Roth members of my church. Surprise.