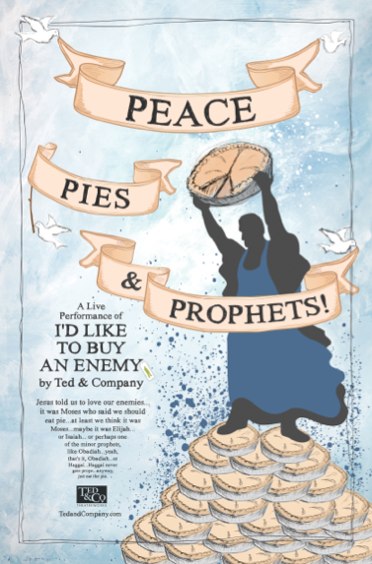 In the fall of 2005 a graduate student in the Center for Justice and Peacemaking (CJP) in Harrisonburg, Va, Odelya Gertel, came to me with a suggestion. "Why don't you and Lee take the principles of CJP and the STAR (Strategies for Trauma Awareness & Resilience) program and create a show?"
The result of that conversation, as well as other encouragements began a series of interviews and two years of research.
Following the death of my partner, Lee Eshleman in the spring of 2007, I tabled the project for two years and then in 2009 began again.
I wanted a show that would make you laugh, but also make you uncomfortable at times– a tender balance.
The result is I'd Like to Buy an Enemy, a satire whose target is the use of fear in our society to control us, the use of The Other to make us afraid, how the selling of war is such a big business, and even bananas as a conflict commodity.
A good poem is sometimes the reduction or distilling of images and ideas into the sparest use of works possible. A play is sometimes 5 years of research, writing, rewriting, rehearsal, talkbacks, changes, growth, trial and error to create…
…a work still in progress. When the cast includes the writer, that work may always be in progress. It is one of the joys of writing and performing, allowing the responses of an audience shift the show.
The show I'd Like to Buy an Enemy is now part of a tour set to travel the country a least through 2013. Unfortunately the issues we address in the show aren't going away any time soon. The tour is called The Peace Pies and Prophets Tour, premièring in Eastern PA the weekend of March 9-11, with all proceeds to benefit Christian Peacemaker Teams.
At each event, there will be live music, "The Enemy " show and a "stealth auction" of homemade pies, many from the Mennonite communities in those areas. Now, I'm not going to brag, okay I am—these will be amazing pies, imbued with generations of love and community, inspired by men and women who know the place of pie in the "Kingdom of God"…and butter, lots of butter. We are not quite sure when an auction segment may "pop up"—hence the "stealth auction."

Will you join us?
Friday March 9th, Akron, PA: Akron Mennonite Church
Saturday March 10th, Philadelphia, PA: Broad Street Ministry
Sunday March 11th, Souderton, PA: Souderton Mennonite Church