Description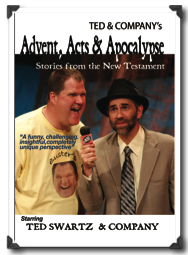 Ted & Company Theaterworks brings new light to well-known stories from the New Testament in this collection of captivating and funny scenes. Advent, Acts, & Apocalypse takes you through the bumps, and growth, of the early church, starting with Gabriel's pleas to take the Advent announcement to Mary and ending with a remarkable rendition of Revelation as seen through the eyes of a homeless man.
68 Minutes
Scenes
Advent
The Temptations of Jesus
Pentecost
Peter & John Heal a Lame Man
Phillip & the Ethiopian
Peter & the Vision
Members of the Family: Acts 15
Paul in Prison
Don't Be Afraid: Revelation
This DVD is also available in our 4-Pack of DVDs called The Big Story.
Only logged in customers who have purchased this product may leave a review.