Description
Perform Fish-Eyes with your drama group! Fourteen scenes of our most popular play; Peter & Andrew's encounters with Jesus. Peter and Andrew experience everything from anguish to exhilaration as they follow Jesus, with a trademark Ted & Company element of humor often found. 90 min. show written for two actors.
Scenes include: The Call / Dressing / The Receiving Line / The Reception / The Day After the Day on the Mount / The Feeding & The Boat Ride/ Don't Tell Anyone / The Triumphal Entry / The Last Supper / Footwashing / The Arrest / The Denial / The Upper Room / Breakfast on the Beach
The script is available in two formats: PDF download of entire script, and PDF downloads of individual scenes. Royalties are required for public performances of the play.
The PDF DOWNLOAD provides flexibility and quick access to the script. Purchase of the downloadable script ($55) grants permission for purchaser to duplicate copies of the 42 pages as needed.
Click on the sample image below to view a full script preview.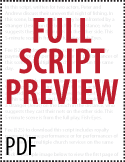 *Individual scenes from Fish-Eyes are available for download.
Only logged in customers who have purchased this product may leave a review.