Description
Written for two actors, this script is based on Acts 4:1-12. In this 5-minute scene, Peter and John are defending their actions before the council. John loses his cool at every turn, while Peter tries to help him speak calmly and explain their actions, which were done in the name of Jesus.
Fee ($25) to download this script includes royalty payment for one performance or for performances of this scene for multiple church services on the same weekend.
Click on the sample image below to view a full script preview.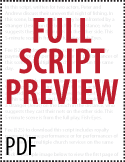 Only logged in customers who have purchased this product may leave a review.