Stories from the Road: Rhubarb Pie and Baseball
Baseball has been a constant presence in my life for the last 50 years. It marks the seasons, enriches spring, symbolizes the death of summer and as the days shorten, a growing cold of the autumn.  I grew up playing with my brother, following the Giants and St. Willie Mays. Then there were the home town Phillies. I've followed them through the horrid years before the emergence of the Mike Schmidt and Steve Carlton-led power house of the 70's and the 80's, through the down time of the 90's and the reemergence of the Utley and Howard-led teams of the 2000's. The boys followed my love of the game, and we now all have "graduated" to softball. A number of years ago we had the opportunity to all play together for our church, Community Mennonite: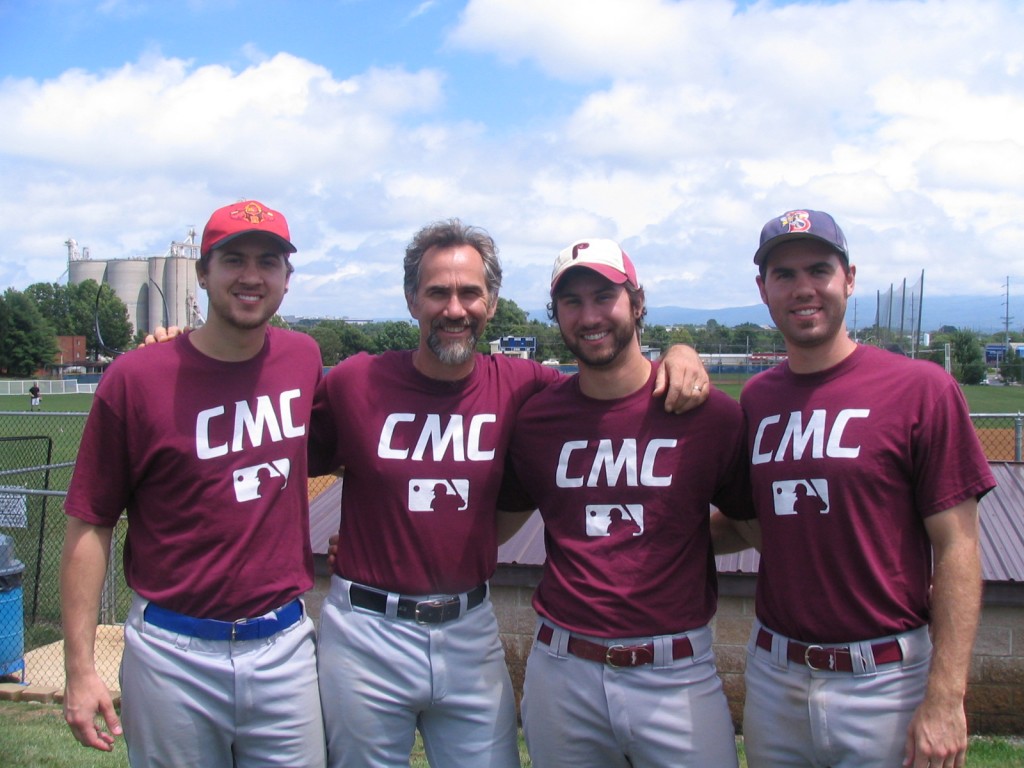 The last Peace Pies and Prophets tour to the Midwest included a show in South Bend, at Kern Rd Mennonite Church. During the second round of pie auctions, the first pie up was a strawberry rhubarb pie. We always start the bidding at $38.50 (different story), and this time after receiving that iconic starting bid, I told a version of this story:
"Ah rhubarb. Rhubarb always reminds me of softball back home in Spring City, Pennsylvania. At the bottom of 4 acres of lawn was our softball field. Home plate was at the lowest portion of field and right field and left field sloped gently upward. At the crest of the rise in right centerfield was the sacred rhubarb patch. Sacred, not because we love rhubarb but rather because of the stern admonition from our grandfather to never, ever run into the rhubarb patch. When someone got a hold of one into the right field gap and the ball rolled or landed in the sacred patch, the fielder threw up his arms to signal ground rule double and then gingerly ventured among the rhubarb to retrieve the ball, perhaps with a cocked eye toward Pop's front door."
I then said,
"That story alone deserves at least 10 bucks."
Immediately I heard a bid of $50. 00 and turned to find the original bidder of $38.50. He had raised himself! When I looked at him he just shrugged and said,
"I love baseball."
Sweet!  So do I.